Solo Exhibition, Look at me, 7 .04. – 16.06.2017,  BlitzArt Portrait space, Geneva, Switzerland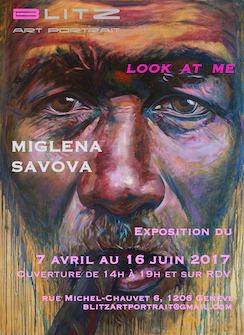 A series of portraits that will take you on the roads of the unexpected.
The artist Miglena Savova invites you to follow her in her universe of lines, curves and colors; in his instinctive, sincere and honest interpretation of moments in life that concern us and affect us in different ways depending on our degree of involvement.
The artist presents to you, in large format, "cigar smokers"; this aristocrat, reactionary, macho and epicurean symbol at the same time. Here told with skill and finesse in a burst of colors. Works to be tasted under the amused gaze of mysterious passionate enthusiasts …
Thierry Auclair 2017
Miglena Savova was born in Bulgaria where she studied for many years. Attracted by the portrait, she practiced this art in all its variations. Arrived in Geneva in 2003, she perfected her art to express her creative force. From collage to photo and from abstract expression to academic drawing, she approaches all artistic forms. His vision of reality through light in his works frees colors and celebrates life in spite of everything.
This insubordination to suffering, we perceive it in these "cigar smokers" represented here by large paintings whose colors seem to flow constantly, like life. Miglena thus rediscovers her passion for portraiture and takes us to Cuba whose symbol is this time magnified. In this explosion of colors where sometimes ironic looks suggest to us that it is sometimes good to think only of yourself, for a moment.
Marina Gasperini 2017