Solo Exhibition "Let's Look", Gallery of Contemporary Art, Sofia Bulgaria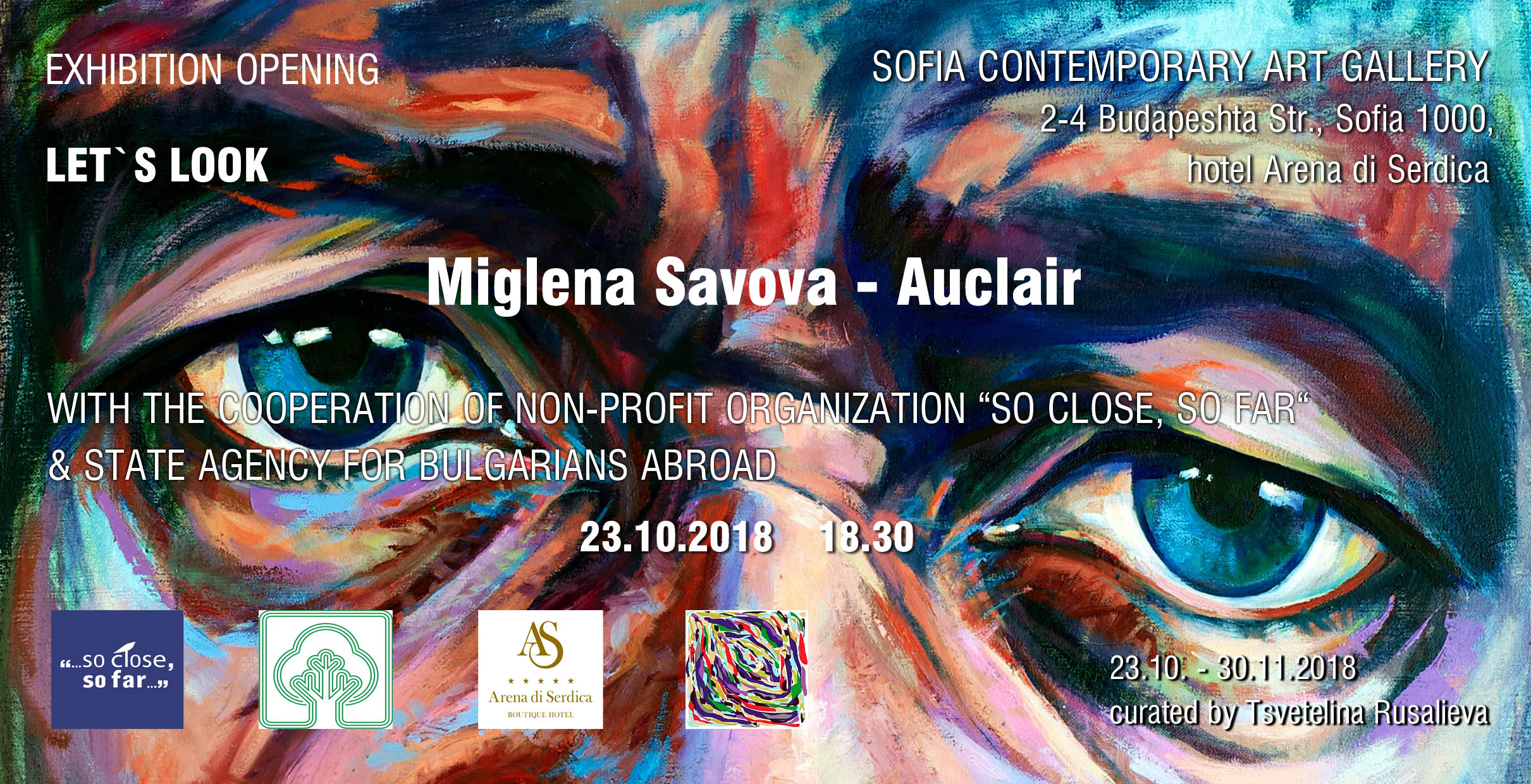 The faces …
They always wear the traces of human history. A picture of a face  can be socially expressive, but it can also be historically significant, influential, memorable, changing order …
By drawing anonymous people it is the universality of human emotions that are expressed. The choice of human faces as a topic is influenced by the interest of the artist, Miglena Savova Auclair, her personality and reactions to increasing standardisation of our society, very close to the descriptions in George Orwell's novel 1984.
The subject of the human face is an impromptu response to the social effect – a kind of disappointment of the time we live in when there is an overproduction of selfies. It emphasizes the growing loss of identity and indivuality or in other words, "… a lot of everything quickly becomes boring … ".
The magic and depth of a face have always attracted Miglena as a pretext and object of creation. Her process of work stands out due to the contrasting colours, but also due to the enigmatic mutedness of colour accents, deliberate non-resonance and chaos, seeking the ultimate goal of harmony. To achieve the desired creative effect, the face as a subject is scaled and strongly expressed, thus creating a significant influence and impact – to look self-absorb and to provoke reflection for the viewer.
The colour dynamics are expressively portrayed and appear free and free-spirited.  As a creator and through colour saturation Miglena Savova Auclair explores the face. It is the geography of identity, with an emphasis on emotions. She skillfully captures the moments of the gaze that expresses this emotion and it is a kind of exploration of the character's state of mind, in search of his inner world.
Gestures are a game on the boundary between incompleteness and conscious control. It is the way  creative magic works, provoking the life on the canvas to emerge and to live.
The smokers of cigars…
Smoking is also a social act and an element of communication, interaction and provocation. The cigar in itself is an aristocratic, reactionary, macho and epicurean symbol. It is a symbol for luxury. The cigars' producers are dedicated, they give emotions and their life to the cigars. Cigars leave their mark on their creators and this is recreated on the faces of the consumers. Indirectly related to the plot is the act of smoking, which has been perceived in different cultures and communities as divine, but also as devilish and vicious.
The smoker's image changes according to geography, culture and time. That is why the concept of the exhibition Let's Look is in search of sealing those people who bring the spirit of time and space, as well as the emotion of a characteristic social act – smoking with communication.
Snezhana Yoveva art manager of the project Tsvetelina Rusalieva curator of the exhibition 2018