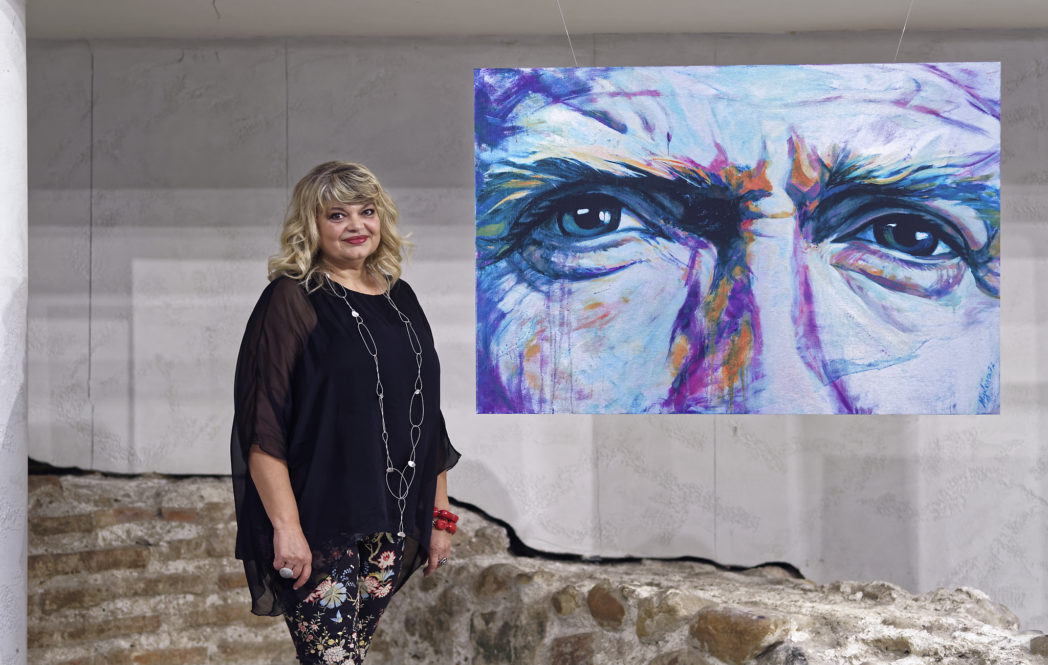 "Let's look," is a call that welcomes us to the exhibition of paintings by Miglena Savova-Auclair in Sofia. This is the first solo exhibition of the talented Bulgarian artist who has been living and working for many years in Geneva. Colors in her works are bright and provocative, images are large and expressive, carrying the general feeling of emotion created by living human communication.
We know talented names in fine arts usually get their voice through art critics. They say that faces in the works of Miglena Savova-Auclair give some kind of answer to contemporary disappointment, as in our times there is overproduction of selfie photos. Everything that comes in bulk leads to boredom and disappointment. As an artist, Miglena Savova explores the human face and recreates it using rich colors, emphasizing the role of the person as bearer of identity. Images that the artist creates are imaginary and nameless, but they show the living and real manifestations of the human soul.
"The magic and depth of the human face have always attracted Miglena. She tries to portray the universal state of human emotions. Faces always bear traces of the history of mankind and the picture of a person can be historical, memorable and influential to the audience."
That is how the delighted viewer interprets universal messages of the exhibition initially shown in Geneva, which will be on display in Sofia until December 25th at the Contemporary Art Gallery at Budapest Street No2 in Sofia.
The "Let's Look" exhibition is organized with the assistance of "So Close, So Far" Association and with the support of the State Agency for Bulgarians Abroad. "I present myself as a Bulgarian artist, despite the fact I have been living in Switzerland for more than 16 years," Miglena says, and adds: "I specialized in the framework of a sculpture restoration project back in 2003, and then moved on to study Art History. I subsequently found my own atelier in Geneva. In recent years, I have been working on an art platform. It is something like an art agency, which includes the atelier for restoration and conservation of sculptures and artworks. In addition, this platform also includes an art school that focuses on adults and children. I've studied graphic design, but painting has been something that has always attracted me. I love color, contrast and provocations that emerge from color combinations. In this exhibition through prints of my paintings I somehow went back to graphics. In my opinion, contemporary artists should provoke the audience; focus on current issues, personal and social ones, because our role is to be some kind of enlighteners. If art failed to provoke, it could not be useful to people. I intentionally urge viewers to face the portraits, thus provoking them to look more often in the faces of others and this way we could get to know each other better."
"Artists are cosmopolitan personalities and can live anywhere. Choosing the best place for yourself is not emigration, it is a search for expression," Miglena Savova-Auclair says.
"The exhibition provoked interest even before it was opened," curator Tsvetelina Rusalieva says, adding: "Miglena and I have recently started to known each other, but we have been working with artists living abroad, in order to introduce them to Bulgaria. We have planned several joint projects for the future. In Miglena Savova's gallery in Geneva an exhibition of works by Bulgarian artists will take place. This is the first step towards an important and fruitful cooperation so that we can reach a wider audience and also help each other as we are Bulgarians after all."
Author: Gergana Mancheva
English: Alexander Markov
Photos: Sofia Contemporary Art
https://www.bnr.bg/en/post/101038550/artist-miglena-savova-auclairre-discovers-human-face-and-resonance-of-soul